Edmonton Digital Marketing
---
Search Engine & Social Media Advertising Strategies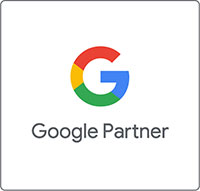 A thorough digital advertising strategy allows you to capture, engage, and convert your desired target audience unlike traditional advertising.
Our digital strategists will work with you to define and achieve your business objectives with innovative strategies across multiple channels including Google Ads (formerly Google AdWords), Facebook, Intagram, LinkedIn & Twitter. We'll develop a custom digital marketing strategy based on the 4 main pillars: the right message, to the right audience, on the right platform and at the right time.
We take a comprehensive online approach to marketing that starts with research and planning, paired with weekly ongoing campaign optimizations and insights to maximize your personal return on investment (ROI). We'll sit down with you to analyze your website analytics and advertising efficiency in order to recommend website tweaks that leverage the wealth of data you're already collecting for an even greater ROI.
Forward thinking companies are choosing to allocate large portions of their marketing budget towards digital marketing primarily due to the ability of highly targeted audiences and higher return on investments.
Frequently Asked Questions
---
What is digital advertising?
Digital advertising involves marketing directly to users through computers, tablets and smartphones. Digital marketing focuses on platforms such as search engines (Google & YouTube), social media (Facebook, Instagram, Twitter, etc), email, websites and apps to connect your business to potential clients based on an extremely targeted strategy.
Why should I advertise on search engines or social media?
Though companies in many business categories continue to approach digital marketing with skepticism, forward-thinking companies are leveraging the massive benefits to having their brand and message display to users at the exact moment the user needs them. By implementing a proper marketing strategy, we can use different platforms to deliver your message to potential clients at every level of a marketing funnel.
How long until I see results?
First of all, it's extremely important to identify what key indicators you define as successful results. If your business is looking for brand awareness, your desired results will be very different than if you are looking to increase phone calls or quote submissions. Once that is properly established, you will see results within the first month. It usually takes at least 3 months to get your advertising campaigns optimized to a point that they are delivering above industry-standard benchmarks.
How much does digital advertising cost?
We charge a monthly management fee - and this depends on how complex your digital advertising efforts are. Generally speaking, our management starts at $500/month (per platform). Additionally, you will need a separate budget for Ad Spend. This typically ranges from $500 - $2,000/month (per platform). We will offer you recommendations for Ad Spend budgets, but ultimately the investment will be dependent on how aggressive you want your marketing efforts to be.
What kind of return on investment can I expect from digital advertising?
The ROI of any advertising strategy is directly related to each individual business, and how much they value a lead or sale. For example, a retail company that's average sale is $100 may spend $1,500 on Ad Spend and management services. If they generate 1,000 clicks to their website, and convert 2.81% (industry benchmark - we currently average 15.6%) into a sale, they will see an approximate revenue of $2,810 (ROI of $87.3%) - or with PA: $15,600 (ROI of 940%).
Advertising at the right time, to the right people, on the right platform.
Digital Marketing is one of the fastest ways to grow your business in an increasingly competitive market.
Digital marketing is all about the intent of your business, so whether your objectives are to build brand awareness, generate more leads, or increase online sales, it's imperative to show your target audience the right ad at the right time. This will drive qualified traffic to your website and increase the opportunity for conversions.
Our digital strategists work with you to identify your unique business goals to create a holistic, personalized approach to your marketing needs. We conduct an extensive audit of your existing account, analyze your competition and industry practices, and make on-going optimizations to your campaigns to ensure we capture every stage of your customer's journey. From mobile to desktop display, we create various campaign strategies & ads that resonate with your target audience.
Did we mention that we handle every account with care? No automation. No "set-it and forget it." Constant monitoring and optimizations will ensure your account is always healthy. And, because digital marketing is all about the data, we present and explain all of our data findings & recommendations in an easy to understand report.
Do you have any questions that we didn't cover? Send us a quick message. We'd love to hear from you.
Google Ads
---
Be seen at the very moment they are searching for you.
Facebook Advertising
---
Drive more sales & leads. Or Simply increase brand awareness.
YouTube Advertising
---
Promote your business or service where everyone is watching.
Instagram Advertising
---
Highly targets audiences. Highly visual campaigns.
Did you know? 87% of smartphone users turn to
Google Search first in their moment of need.
Wouldn't it be great if you could advertise your product or service directly to users during this micro-moment?
Pixel Army is a Trusted Google Partner
Google Partner Certified
---
Anyone can join Google Partners, but only trusted agencies can earn Google's seal of approval and get listed on Google Partner Search.
Talk to a trusted Pixel Army expert today about growing your business.