Digital Marketing
---
Search Engine & Social Media Advertising Strategies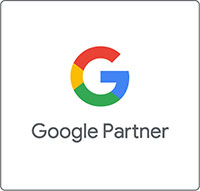 A thorough digital marketing strategy allows you to capture, engage, and convert your desired target audience unlike traditional advertising.
Our digital strategists will work with you to define and achieve your business objectives with innovative strategies across multiple channels. We develop a custom digital marketing recipe based on the 4 main ingredients: the right message, to the right audience, on the right platform and at the right time. Throw in a dash of and it's just like grandma used to make.
We take a comprehensive online approach to marketing that starts with research and planning, paired with weekly on-going campaign optimizations and insights to maximize your personal return on investment (ROI). We'll sit down with you to analyze your website analytics and advertising efficiency in order to recommend website tweaks that leverage the wealth of data you're already collecting for an even greater ROI.
Forward thinking companies are choosing to allocate large portions of their marketing budget towards digital marketing primarily due to the ability of highly targeted audiences and higher return on investments.
Advertising at the right time, to the right people, on the right platform.
Digital Marketing is one of the fastest ways to grow your business in an increasingly competitive market.
SEM is all about the intent of your business, so whether your objectives are to build brand awareness, generate more leads, or increase online sales, it's imperative to show your target audience the right ad at the right time. This will drive qualified traffic to your website and increase the opportunity for conversions.
Our digital strategists work with you to identify your unique business goals to create a holistic, personalized approach to your marketing needs. We conduct an extensive audit of your existing account, analyze your competition and industry practices, and make on-going optimizations to your campaigns to ensure we capture every stage of your customer's journey. From mobile to desktop display, we create various campaign strategies & ads that resonate with your target audience.
Did we mention that we handle every account with care? No automation. No "set-it and forget it." Constant monitoring and optimizations will ensure your account is always healthy. And, because SEM is all about the data, we present and explain all of our data findings & recommendations in an easy to understand report.
Do you have any questions that we didn't cover? Send us a quick message. We'd love to hear from you.
Google Ads
---
Be seen at the very moment they are searching for you.
Facebook Advertising
---
Drive more sales & leads. Or Simply increase brand awareness.
YouTube Advertising
---
Promote your business or service where everyone is watching.
Instagram Advertising
---
Highly targets audiences. Highly visual campaigns.
Did you know? 87% of smartphone users turn to
Google Search first in their moment of need.
Wouldn't it be great if you could advertise your product or service directly to users during this micro-moment?
Pixel Army is a Trusted Google Partner
Google Partner Certified
---
Anyone can join Google Partners, but only trusted agencies can earn Google's seal of approval and get listed on Google Partner Search.
Talk to a trusted Pixel Army expert today about growing your business.